The Bachelor Ratings Are Down
But <em>2 Broke Girls</em> keeps doing better.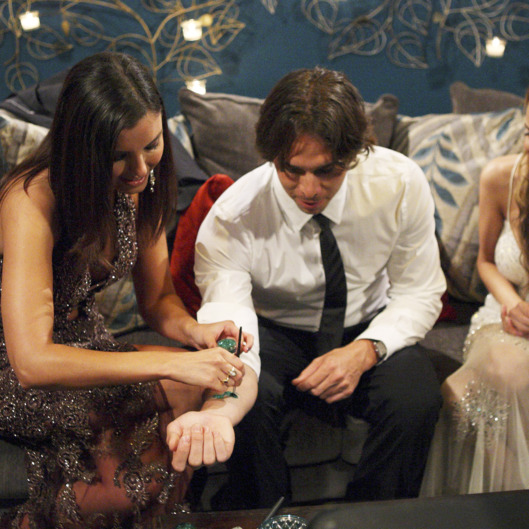 It looks like many of you made a New Year's resolution to watch 2 Broke Girls and swear off your addiction to The Bachelor. Last night saw the broadcast networks (mostly) return to first-run mode, and the news was very good for Michael Patrick King's first-year Eye comedy. Among viewers under 50, 2 Broke averaged a strong 4.3 rating, building by 10 percent over its How I Met Your Mother lead-in (3.9 rating) and, most interestingly, coming in just one tenth of a ratings point behind CBS's comedy king Two and a Half Men (4.4 rating) in the key demo. The latter show, while still a hit, continues its slow Nielsen fade: Two and a Half declined three tenths of a ratings point from its last original broadcast on December 12, and if 2 Broke keeps up its momentum, it's not hard to imagine the show passing Chuck Lorre's warhorse to become the Eye's biggest Monday comedy. As it is, 2 Broke is already out-rating Men with women under 50 and all viewers under 35. (This, by the way, would be very good news for CBS: If you're a TV network, you'd like your top players to be young and frisky).
Things aren't so, er, rosy for ABC's The Bachelor, which returned for its sixteenth season Monday to its lowest ratings in year. Among viewers under 50, the faux-romance reality series, which marks its tenth anniversary in March, averaged a disappointing 2.4 rating. That's a dramatic decline of 17 percent from last year's January debut, and almost 30 percent below what the series opened to back in 2010 (a 3.3 rating). On the bright side for ABC, The Bachelor proved to be a solid lead-in for the launch of Celebrity Wife Swap. The B-list twist on the fighting family format averaged a 2.4 rating in the key demo and held on to all of its lead-in. The real test for CWS comes tonight, however, when the series settles into its regular time slot, Tuesdays at 9 p.m. Instead of following Bachelor, CWS will air immediately after ABC's much anticipated cross-dressing comedy Work It! (And by "much anticipated," we mean, "much anticipated by TV critics who've been waiting for months to go all Gus Fring on the show.")
Related: Watch Every Bachelor Contestant Introduce Herself in One Sentence