A Calm Charlie Sheen on His New Sitcom, His Old Sitcom, and Poop Jokes
"We're not going to do the obvious. We're going to stay away from it."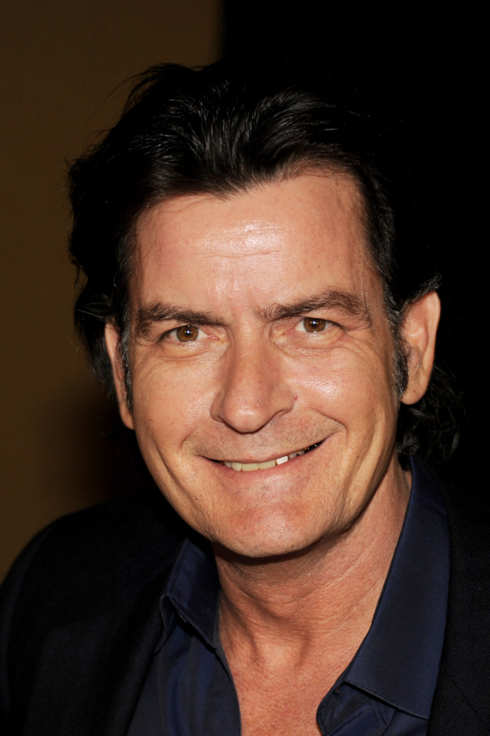 If one of your 2012 New Year's resolutions was "not spend any more time following the antics of Charlie Sheen," we have good news and bad news. The bad news is that this Sheen-centric post, detailing the actors' appearance at a Fox/FX party Sunday night in Pasadena, contains at least a little of the wackiness you've come to expect from a Sheen dispatch: a cameo appearance by Keifer Sutherland, reporters being escorted to a dimly lit outdoor area so Sheen could smoke-and-chat, and Sheen uttering words such as poop and jack-off. The good news is that reading this post won't violate your resolution, since Sheen, promoting his upcoming FX/Lionsgate comedy Anger Management, really didn't engage in antics or shenanigans of any kind last night. In fact, he appeared healthy and stable and at least somewhat self-aware, demonstrating a quick wit and patient attitude despite the presence of dozens of reporters gently trying to goad Sheen into saying something inflammatory. Instead, Sheen's image makeover began with a performance that was, well ... winning.
Sheen's press offensive began when he entered the Fox party and immediately found himself swarmed by perhaps two dozen reporters. Vulture joined the scrum a few minutes in but soon found ourselves right next to Sheen. "Hey, I know you," he said to us. While we're pretty sure we'd never met, we went with it and asked Sheen a question: How is his life today different than a few months ago, at the height of ... "The Winning Odyssey"?, Sheen interrupted. "Everything's a lot more mellow and focused. I'm much more rooted in reality." Another reporter asks Sheen what he learned from his hastily assembled comedy tour. "It was a radical example of stick to what you know," Sheen said, making what would be one of several almost self-deprecatory comments. Any regrets? "I would've been a little less vocal about the people I work with in the executive branch," he said. "That's about it, though."
We asked Sheen what else he'd been working on lately, and he said he had just wrapped production on A Glimpse Inside the Mind of Charles Schwann III, a new movie from Roman Copolla co-starring Bill Murray and Jason Schwartzman. "I went from making $2 million a week to $1700 a week on Roman's movie, and I was never happier. It ain't about the money." Soon, Sheen's body man (who was quite nice!) whisked Sheen away, but an FX publicist informed us Sheen would be taking questions outside shortly. And sure enough, within a few minutes, scribes were taken out back, where Sheen was puffing on a cigarette and chatting up ... Sutherland (of Fox's upcoming Touch). We're asked to lay our recording devices on a table and stand on the opposite side of Sheen. While Sheen and Sutherland finished up their conversation, Sheen's new producer and partner, Bruce Helford (The Drew Carey Show), explained why he didn't hesitate when asked to run Sheen's new show. "I knew a ton of writers and crew members on (Two and a Half Men) and they all said he did his job," he said. And on a series like Anger Management, which will tape on an accelerated basis (two episodes per week), "You need somebody who knows his shit, who's done this before," Helford said.
Sheen sat down at the dimly lit tale and explained his history with Sutherland: "We did Young Guns together back in '88," he says. "We've stayed in touch. We threaten to get together but never do ... I'd love to have him on the show." Vulture asked Sheen what was going on in his head during weeks of public outbursts. "It was a lot about what had been going on for all the years on the job," he says. "It was also 30 years in the business, pressure cooking up, and finally saying all the things I wanted to say. And I said them all at once. And it created a tsunami of bizarre proportions." Why did he keep talking for so long? "The reason I pushed it was because I knew I was right," he says. "I knew I was absolutely right in my stand. Right about what they had done, which was completely wrong, versus what I had done, which wasn't. That's why I pushed it so hard."
It was during this phase in Sheen's interview that he came closest to dinging his former boss again. In addition to repeating his claims that he was wronged by producers, he talked about what won't be part of Anger Management. "There'll be no fart jokes, and dick jokes, and poo-poo jokes, and jack-off jokes," he said. "We're not going to do the obvious. We're going to stay away from it." (This implicit dis of the humor at his old job is a bit of a change for Sheen: When he was on tour, and hoping to get that gig back, he called Two and a Half Men "the greatest sitcom ever.") Sheen also lavished praise on the creative process so far at Anger. "Every time I see [Helford], it's like 100 warm hugs," he said. "To have my input welcome is an alien concept to me." After a few more softballs (Sheen spends "a lot of time with my children"; he's now sleeping up to seven hours per night), we ended the chat by asking Sheen whether he was used by the media during his ... crisis. "It is what it was," he says. "I think that I started to figure out ... to work with them, not against them. There are too many of you guys. I can't fight you. I just try to pick my spots wisely and think a little longer before I speak."