Celebrities Will Sell Most Anything, As Long As It's Not Here
Let's watch Clooney, Aniston, Pitt, DiCaprio, Snoop, Julia, and many more cash in across the ocean.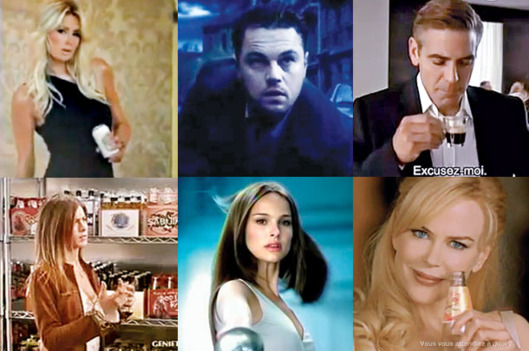 It started with Charles Bronson. The year was 1972, and Jsapanese toiletries and men' skin-care company Yanagiya, trying to reinvent itself, changed its name to Mandom (a portmanteau of human and freedom) and signed up the most macho of men to splash aftershave on his face in its commercials. The campaign exploded, and Dentsu, the ad agency behind it, started importing American stars to Japan by the boatload. Today the market has shifted to Russia and Brazil. For endorsing a product abroad, stars can pull in anywhere from the mid–six figures all the way up to $10 million. Cameron Diaz and Brad Pitt each reportedly made around $1.7 million appearing in Japanese ads for SoftBank Mobile, a cell-phone company. In 2010, Julia Roberts reportedly banked $1.5 million for a 45-second coffee ad in Italy. They'll have to keep grinding if they want to match the reported $4.8 million payday Robert De Niro saw for a 1999 Italian lamp ad, though. And while Madonna would command top dollar anywhere, some countries, like Brazil, are still obsessed with eighties action stars and MacGyver's Richard Dean Anderson. Click on and watch sixteen variations of stars shilling all around the world.
This post comes from this week's special issue of New York Magazine, which breaks down all the windfalls, paydays and freebies of the celebrity economy.
BEGIN SLIDESHOW