Celebrity Apprentice Cast Marginally Less Crazy This Year
Go nuts, Clay Aiken.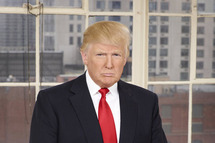 With Gary Busey, NeNe Leakes, and Lil Jon onboard, last year's Celebrity Apprentice lineup was hard to top in terms of nuttiness. But this year's cast, featuring Clay Aiken, Debbie Gibson, Arsenio Hall, Penn Jillette, Victoria Gotti, and the (admittedly slightly unhinged) Teresa Giudice, seems almost tame in comparison. Also slated for season five: Michael Andretti, Adam Carolla, Lou Ferrigno, Dee Snider, George Takei, Paul Teutul Sr., Tia Carrere, Lisa Lampanelli, Dayana Mendoza, Aubrey O'Day, Cheryl Tiegs, and Patricia Velasquez. Maybe some extra crazy is hiding in there somewhere?