Cinematography Nominees: War Horse Can't Catch a Break
Find out who got nominated.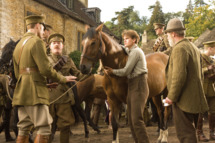 Whoa, nelly! War Horse just can't find traction this awards season, and though the Steven Spielberg epic failed to get important nominations from the Golden Globes, WGA, and DGA, one might think it stood a chance with the American Society of Cinematographers, thanks to those ostentatious sunset skies and even more ostentatiously lit blue eyes. Alas, the ASC announced their nominees today, and yet again, War Horse didn't make the cut: Instead, awards sleeper The Girl With the Dragon Tattoo once again made the five-movie cut, joined by The Artist, Hugo, Tinker Tailor Soldier Spy, and The Tree of Life. Check out Vulture's Awards Tracker for an even closer look at who's surging (and who's getting snubbed) in this year's awards haul.