No Doubt Didn't Mean to Endorse Ron Paul
Neither did Nicole Scherzinger and Rise Against.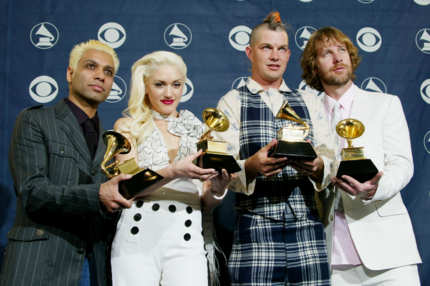 If you woke up this morning, checked Twitter and were puzzled to find that No Doubt, Nicole Scherzinger and Rise Against had all thrown their social networking muscle behind prospective presidential-candidate Ron Paul, you weren't the only one. The musicians were too, as none had actually tweeted those messages. It seems that some rambunctious Paul supporters saw fit to hack each artist's Twitter account and post notes of support for the Texas senator. Though deleted, Billboard reports that the messages were very pro-Paul and all concluded with the "ronpaulrevolution" hastag. Besides the deletions, the artists were all quick to distance themselves from the tweets. No Doubt wrote that they weren't going to be handing out any endorsements yet, while the liberal-leaning Rise Against firmly tweeted, "We were hacked. As you would all assume, We DO NOT support Ron Paul." So in case you were wondering about the political proclivities of your favorite radio stars, now you know: Kelly Clarkson, pro-Ron Paul; No Doubt, Nicole Scherzinger and Rise Against, not so much.