The Eight Manliest Collaborations of All-Time
HBO's <em>Luck</em> is pretty macho, but is it the macho-est?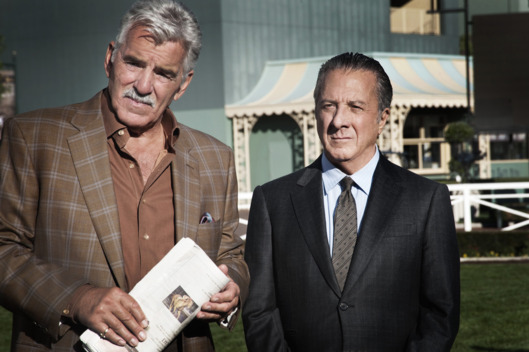 HBO's David Milch–Michael Mann horse-racing drama Luck sneakily premiered last December after the Boardwalk Empire finale. This Sunday night Luck begins its nine-episode run with an encore of the premiere (read our review here), officially firing the starting gun on a season of weathered scowls, profanity-filled Milch-ian dialogue, and troughs full of testosterone. With Milch and Mann working off-screen and Dustin Hoffman, Nick Nolte, and Dennis Farina on it, this show is full of enough machismo to kill a horse. That got us wondering how it stands up to some of the manliest TV and film casts of all-time. So we came up with a formula that considers the virile attributes of the actors, the story, and the characters to come up with a "manliness score." Then we applied this formula to the raw-meat-eating casts of some of the macho-est movies and TV shows of all-time. Here are the results.
BEGIN SLIDESHOW