Elton John's Husband Wants a Take-Back on Those Madonna Comments
Blame his artistic passion.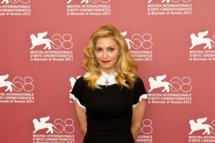 After Madonna's "Masterpiece" edged out Elton John's "Hello Hello" for the Best Original Song Golden Globe, David Furnish took to Facebook to share some opinions on his husband's loss. (The memorable snippets included "Best song??? Fuck off!!!" and "Her acceptance speech was embarrassing in it's [sic] narcissism.]" For the record, Vulture wasn't too wild about her later stage banter, either.) We'd more or less chalked this up to a defensive mean streak on the part of Mr. Elton John, but it turns out there is another emotion to blame: artistic passion. From Furnish's Facebook non-apology: "My comments regarding the Golden Globes have been blown way out of proportion. My passion for our film Gnomeo & Juliet and belief in Elton's song really got my emotional juices going." He goes on to praise Madonna's talent and wish her luck on W.E., which we're reading as sort of a last-ditch "Please don't castrate me in my sleep, you terrifying Hydrangea-hating lady" effort on the part of Furnish. Good luck!