Emma Stone Will Drop By 30 Rock
But very, very briefly.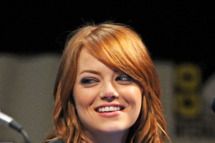 What if we told you that Emma Stone had signed on to topline yet another omnibus comedy in the vein of Valentine's Day and New Year's Eve, and Andy Samberg and Nick Cannon are also onboard? What if we then told you that said sequel was entitled Martin Luther King Day, and its giant cast of stars includes Jenna Maroney? Now you've got it: Stone, Samberg, and Cannon will all be guesting on the January 26 episode of 30 Rock as co-stars of Jenna (Jane Krakowski), who's somehow wormed her way into a Garry Marshall–like comedy. What, they couldn't get Tina Fey's old friend (and New Year's Eve co-star) Seth Meyers, too?