Emmy Rossum Supports Uggie's Retirement
"That dog is exhausted."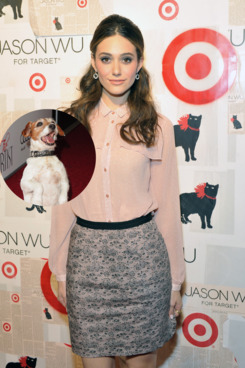 When Vulture ran into Emmy Rossum at the Jason Wu for Target Launch event last night, we were a little worried: Rossum frequently tweets about her love for The Artist's wonder-dog Uggie, so how might she take the recent news of his retirement? As it turned out, Rossum was dealing just fine. "He's 10," she told us calmly. "He's had a long career." The Shameless actress actually met Uggie in the fur not long ago when both shared the green room during an appearance at New York Live, and Rossum says the encounter convinced her that Uggie is ready to cede the spotlight: "He's exhausted. He's been on a whirlwind press tour. I mean, he does all the tricks — he does the shy thing, he does the bang-bang thing, but that dog is exhausted. I fed him water in a little Poland Spring bottle cap; that was the highlight of my day." Would she ever consider adopting him? "He was in Water for Elephants; I mean, he's a star," she said. "He's a mega-megastar."