Explaining the Long-Term Success of the Underworld Franchise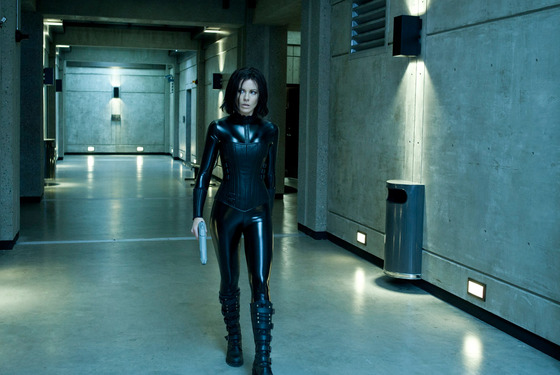 Long after Bela Lugosi but just before Bella Swan, there was the vampire franchise Underworld, the fourth installment of which, Underworld: Awakening, took in $25 million this weekend. Unlike the Twilight saga, which has sold over 30 million books since its debut in 2005, the Underworld series of comic books "were hardly seen by anyone," admits one talent agent long involved in Screen Gems' franchise. If Twilight is emo pop with $2 billion in global grosses, then Underworld is Goth-core, darkly devoid of any pretty-boy heartthrobs with great hair or tween-friendly PG-13 ratings. Its audience may not have grown markedly, but it certainly has not shrunk either. Each film since the first has made just shy of $100 million worldwide. Why is Underworld so wildly profitable?
For starters, it's not what you make; it's what you keep. "This is not meant to be 'Let's take a chance!' filmmaking," says our agent spy, "It's not Peter Jackson and The Lord of the Rings. These films, they're not designed to have overages. There are really tight purse strings."
The first film released in 2003, insiders say, cost just $21 million. The sequel cost twice as much, and the third — a prequel made without its principal star, Kate Beckinsale — cost only $35 million but still grossed almost as much as the original.
To coax Beckinsale back into her lithe costumes, Screen Gems paid her "a fortune," says our agency spy, before adding a bit anticlimactically, "like, $8 million." While that effectively doubled the budget of the penultimate film, it's still cheap by Hollywood blockbuster standards.
The fact that it's always been a rated-R franchise means that its audience hasn't aged out of the experience. When the film travels to Comic-Con, it now routinely fills San Diego Convention Center's mammoth Hall H with decidedly not-teen fans. "The Goth kids that went to the first Underworld are now young adults who go to Underworld," explains our agency spy. (The studio's own stats back this up, too: Fully 60 percent of the Underworld: Awakening audience was age 25 or older, says Rory Bruer, Sony's president of worldwide distribution.)
That loyal, hard-core following is reflected by audience research leaked by studio sources to Vulture: NRG audience polling found that in the three weeks before its release the latest film was on tracking, with those naming Underworld: Awakening as their "first choice" remaining relatively strong and constant. For several weeks, it hovered at 9 percent, before finally climbing to 11 percent and finally 12 percent the day before opening. "That means the audience is there, but didn't grow," explains our agent, "But it also means the fan base isn't rejecting it, either. And that means this is going to be a film that can make $175 million worldwide."
Even more unexpectedly, Underworld does reasonably well with women. Though the audience for Awakening was decidedly more male than female, it wasn't so by much — just 55 percent. In fact, in the run-up to its release, NRG tracking found that three quarters (73 percent) of guys over 25 were aware of the film, and half expressed "definite interest." Surprisingly, though, 41 percent of women over 25 aware of the film also expressed "definite interest." "It started out Romeo and Juliet with vampires and werewolves," says our agent, "and becomes about a mother who'll do anything to protect her child."
Finally, this most recent iteration of Awakening was shot in 3-D, and three quarters of the theaters exhibiting the latest movie were either large-format IMAX or digital 3-D screens. Unlike many previous films, Underworld has been largely immune to the open rebellion against 3-D surcharges affecting many other Hollywood movies lately. "People totally embrace this type of genre in 3-D," explains Bruer — and not just in the States, but overseas, too, where its universality in theme means it travels well. Recent box-office tallies in Russia are seven times that of previous Underworld film grosses. "When you make a movie today," says Tom Rosenberg, its executive producer and co-financier, "you're looking at the world."
Photo: Screen Gems Inc.