Fiona Apple's New Album Will 'Absolutely' Come This Year
But don't expect to hear any songs from it for a while.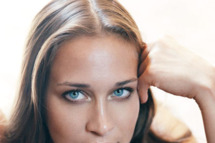 Fiona Apple fans have been wondering when Epic would deign to release her new album, which has been done for over a year, according to the singer. Still, hopes were raised this past week when Epic Records chairman L.A. Reid tweeted, "Lots of good music coming from @Epic_Records in the next few weeks. Stay tuned music fans. Welcome back Fiona!" That prompted Time to do some digging, and an Epic spokeswoman told the magazine that while Reid's tweets were "taken a little bit out of context" and we shouldn't expect to hear new Apple tunes anytime in the next few weeks, she had some good-ish news on the album's release date: "It'll absolutely be this year, but timing-wise, I don't know exactly when." Free Fiona!