George Lucas Claims He's Retiring From Blockbusters
Though he will still defend the "fridge-nuking" from <em>Indiana Jones</em>.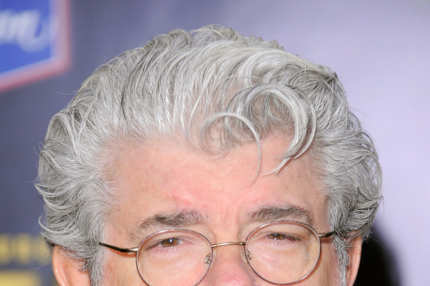 In an amusing new profile in the New York Times, George Lucas is blunt. "I'm retiring," he says. "I'm moving away from the business, from the company, from all this kind of stuff." The Lucasfilm guru says Red Tails — which he produced, financed, and directed reshoots for — will be his final big-budget effects adventure, and now he's ready to pivot solely to smaller, more personal movies, taking his cues from friend Francis Ford Coppola. So no more Star Wars movies? "Why would I make any more when everybody yells at you all the time and says what a terrible person you are?" gripes Lucas. Despite his distaste for carping fanboys, though, Lucas admits to the Times that one of the most hated moments in Indiana Jones and the Kingdom of the Crystal Skull — the infamous "nuke the fridge" sequence — was his own idea, not Steven Spielberg's. In fact, Lucas put together a lengthy informational dossier to convince a reluctant Spielberg that Indy could actually pull off that stunt: "The odds of surviving that refrigerator — from a lot of scientists — are about 50-50," insists Lucas. Case closed!