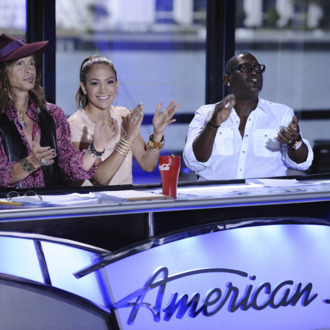 Photo: Michael Becker/FOX
American Idol remains a giant show, but its Nielsen ratings took a larger-than-expected hit with last night's eleventh season premiere. Just under 22 million viewers — 21.9 million— watched Wednesday's two-hour opener, down about 17 percent from the 26.2 million who watched last year. The real decline came in viewers under 50, where Idol scored a 7.4 rating, falling a pretty significant 24 percent from 2011, when the show averaged a 9.8 demo rating. Idol is suffering an even bigger fall from glory with those under 35:  Among teens and adults 12-34, Idol averaged a 6.1 rating — down from a 7.8 last year and tied with this month's Season 5 premiere of Jersey Shore, which also averaged a 6.1 in the same demo. (That's definitely a Situation that folks at Fox can't be happy about.)*
There are many glass-half-full/half-empty ways to look at the Idol premiere numbers. Half-full:  Among adults 18-49, the biggest currency among broadcast networks, Idol is still far and away the biggest series on broadcast TV. It's well ahead of the next biggest hit on the small screen (Modern Family, which tends to average in the mid-5 rating in overnight numbers). Half-empty: In terms of total viewers, the Idol debut was just a hair ahead of last week's episode of NCIS, which attracted about 21 million viewers. Half-full: It still crushed everything else on network TV last night, outscoring all the other major networks (by 3 percent) and runner-up Modern Family (by 44 percent). Half-empty: Idol didn't hurt rival networks nearly as much as it used to. Modern Family and Happy Endings were off a mere 2 and 3 percent, respectively, from their ratings from last week, and could very well gain back those eyeballs once DVR data is included. Half-full: Idol has traditionally done a good job of killing off other networks' vulnerable young shows, and last night, it  took a big bite out of some newer shows. Whitney and Chelsea declined more than 20 percent vs. their Wednesday debuts last week (some might say this is actually glass overflowing). And the very good Suburgatory declined 14 percent (but still held on to most of its The Middle lead-in).

So what's the takeaway from last night's numbers? Look for plenty of alarmist headlines declaring Idol in free-fall, and comments from anonymous network rivals noting how the "juggernaut" is no more. This is particularly likely to happen if, as often happens, Idol loses audience in the coming weeks (before potentially gaining eyeballs once live shows kick in). But if Idol can manage to keep pulling, say, 18 million viewers each week, and average around a 6 in the demo, Fox execs will still have an enormously successful show that airs between three and four hours each week. What's more, the real pressure this season is on NBC's The Voice, which has benefited from an inordinate amount of hype for a show that ended its first season below a 4 rating in the adults 18-49. Its numbers were very strong for the Peacock and impressive for a first-year show. But if The Voice doesn't come back notably stronger in Season 2, the comparisons to Idol may not be pretty.
*Correction: This piece previously noted Jersey Shore averaged a 7.2 rating, beating Idol, using data supplied by MTV which calculates ratings based only on homes where the channel is available, rather than the industry standard of all TV homes. In addition, final data supplied by Fox shows Idol inched up from a 6.0 rating to a 6.1 in viewers 12-34.