James Franco Will Play Robert Mapplethorpe
In <em>Mapplethorpe</em>, from producer Eliza Dushku.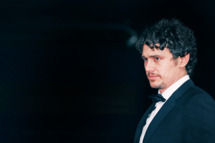 The James Franco–led Robert Mapplethorpe biopic Mapplethorpe is one step closer to reality after earning a Tribeca-backed grant, the Hollywood Reporter reports. The long-gestating project from producer Eliza Dushku will mark the first narrative film from documentary director Ondi Timoner (Dig!, We Live in Public) and the second film in which Franco plays a then-controversial gay artist whose work provoked legal explorations of obscenity and public discussions about indecency and sexuality. The Mapplethorpe role was initially intended for Dushku's brother Nate Dushku, who's now listed as a producer, but even smaller fare like this cannot row against the ever-more-powerful current of Franco-driven homoeroticism.