Jay-Z Supposedly Retiring the Word Bitch
Blue Ivy Carter continues to wield her newborn influence mightily.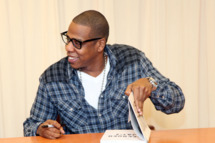 It's unclear why Britain's NME would have their hands on a new poem by Jay-Z, but if they do, and it's real, Hova's done dropping the word bitch thanks to newborn daughter Blue Ivy Carter. The poem is said to sport lines like: "Before I got in the game, made a change, and got rich/I didn't think hard about using the word bitch/I rapped, I flipped it, I sold it, I lived it/Now with my daughter in this world I curse those that give it."
If the B-word is on its way out of the repertoire, Uncle Kanye has to be psyched he got his big bro to cosign Watch the Throne's "That's My Bitch" less than a year before Baby Blue came along. Jay's near-whisper of the hook on that track could've hinted at this decision, yet we're still reeling.
Because, Blue Ivy aside, why now? What about Beyoncé? Rihanna? All the women Jay-Z has worked with and/or loved and/or visibly respected in his 42 years prior to B.I.C.'s debut? The poem goes on to state "the degradation has passed," and Jay calls Blue Ivy "my angel." It's all in line with the newly released, glowingly paternal love-rap "Glory feat. B.I.C.," but it's a stark juxtaposition against our still-fresh memories of Hova dropping those percussive bitch-bombs during "99 Problems" on the Watch the Throne tour just a couple months ago. They do say becoming a parent changes you, though, or helps you grow, or compels you to stop spitting certain cusses. Something.
Update, 1/18: The Daily News got Jay-Z to unravel it all with a brisk comment: "That poem and story are fake." Oh well — it was fun to imagine!