Jersey Shore Is Still a Hit
A big hit: 7.6 million people watched the premiere.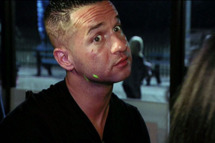 In Jersey Shore's fifth season premiere last night, the cast was up to their same ol' Ron Ron juice, bickering, getting wasted ways, and the ratings reflected that: Jersey Shore is still a very big hit. A total of 7.6 million viewers watched the episode, which was the No. 1 most watched cable show of the 2011-12 season among 12-to-34-year-olds. It was also the second highest rated series on all of television — both cable and network — this season in that same demo, behind only the debut of Two and a Half Men.