Jessica Chastain Makes Time in Her Very Busy Schedule for Madagascar 3
Chill, Jessica! Have a drink.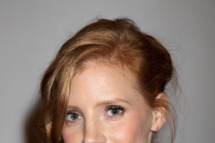 At what point does someone step in and tell Jessica Chastain, "Enough! Chill out! Have a drink. Take a vacation"? The hardest-working woman in show business has signed up for yet another movie — the third installment of Dreamworks' very popular zoo-on-the-loose animated series. Chastain will voice Gia, the jaguar, who is apparently the "moral compass" of the traveling circus that goes rogue in Madagascar 3: Europe's Most Wanted. Will Chastain actually get to go to Europe to do the voice work? Can someone lock her in some exotic Mediterranean villa while she's there? Just for a week, for her own good.