Joseph Gordon-Levitt Has His Beatles Moment at Sundance
Anyone for an actor-led singalong of "Hey Jude"?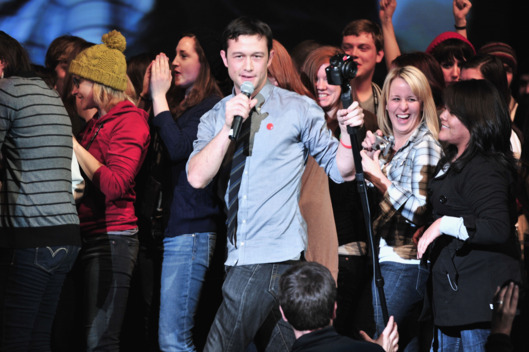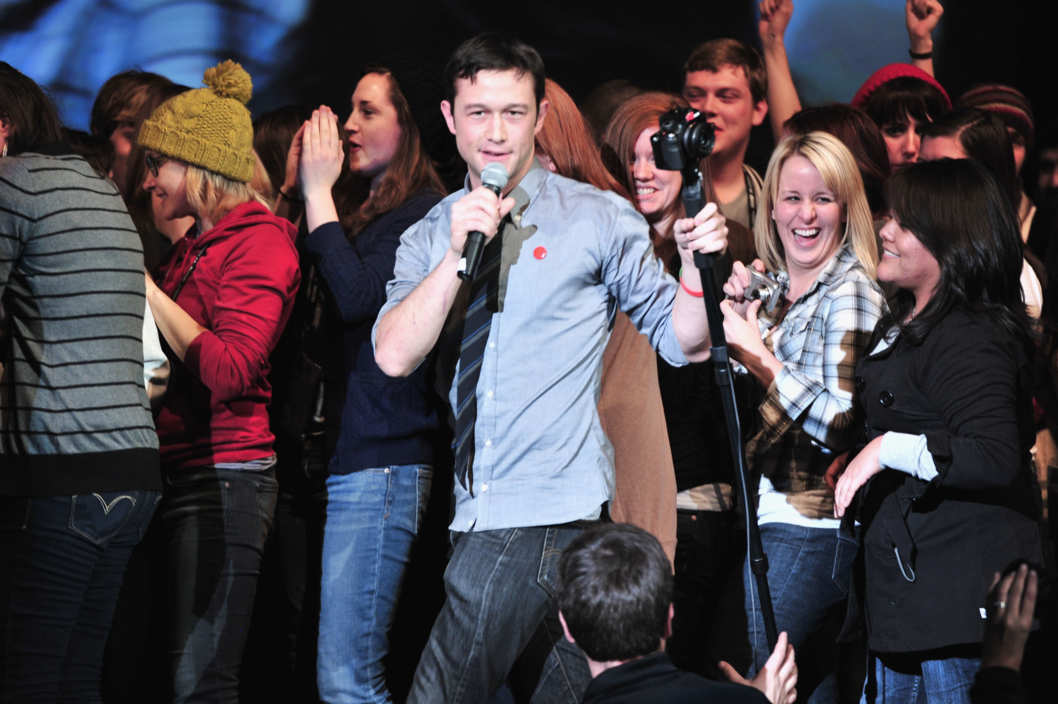 Joseph Gordon-Levitt may be known as a former TV star and a current movie star, but make no mistake, the man is also a rock star. The way his loyal fans began screaming as soon as the 30-year-old impresario bounded on stage Thursday night at Sundance's Eccles theater for a multimedia event touting his collaborative, art-creating, web-based production company HitRECord, you would have thought Elvis had been resurrected, or at least that the Bieber was in the house. He proceeded to take complete command of the theater, running around and amping the already feverish crowd up to a boil, and this without the aid of a working microphone; when he realized it wasn't functioning, he threw the dead mike across the stage and grinned: "I probably shouldn't break Sundance's equipment." Minutes later: "I'm out of breath, I'm so fucking excited!"
The usual anti-piracy warning to turn off all cameras and recording device flashed on the screen behind him, then a voice boomed over the loudspeaker telling the audience to please turn on all cameras and recording devices. "I see a lot of red lights. That's good news," he said. The goal was to upload the footage from the concert/presentation on the HitRECord website, where it would then be turned into short films by a community of artists. Audience members were encouraged to Tweet at Gordon-Levitt (Twitter handle: @hitRECordJoe) with the answers to questions that flashed onscreen, like "What is independence?" He'd then bring the authors of the best Tweets onstage to discuss what they'd written and their grand philosophies of life. In between discussions, Gordon-Levitt screened short films created by the HitRECord community. The event was entertaining (if overlong), and Gordon-Levitt was admirably accessible, and here were some of the random highlights and observations of his event:

- Gordon-Levitt has one of the more accurate definitions of a hipster: "A hipster to me is someone who kind of dresses up like an artist, but they don't actually make anything. So all of y'all people who call me a hipster can go fuck yourselves because I make shit all the goddamn time. People are like, 'You wear skinny jeans.' These are 501s, man! Fucking straight."

- Special guest Parker Posey, who's here with Price Check and once had three movies at Sundance in one year — House of Yes, Clockwatchers, and Suburbia — seems to be really sick of the now-sixteen-year-old moniker "Indie queen." See if you can sense the sarcasm:
Posey: "This is very independent. I approve. I am the indie queen. Hey everybody! I got famous the old fashioned way. Don't hate me!"
JGL: "What do you mean by 'Indie Queen'?
Posey: "That's what they call me. That's what they called me. In Time magazine. In 1996. And it stuck. And people can't seem to get over it."

- JGL considers himself a Jew "because of the food and the movies and stuff." This factoid emerged as he talked to an audience member who was excommunicated from the Jehovah's Witnesses.

- Posey went to Catholic school: "There's an expression: Once a Catholic by six, you're a Catholic forever. So I'm still carrying around my cross."

- There is no better way to lose a crowd of rowdy twenty-somethings than by a long reading of a script about Mark Twain with Parker Posey, Brady Corbet, and Joseph Gordon-Levitt.

- There is no better way to get them back than by being Joseph Gordon-Levitt and singing impassioned, sometimes off-key acoustic renditions of "Baby Mine" and "Hey Jude."