Katherine Heigl Wants to Come Back to Grey's Anatomy
"My idea is that [Izzie] actually ... figures it out and finds some success."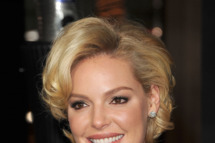 Katherine Heigl wants to come back to Grey's Anatomy, she tells E!, because she "really, really, really" wants to see where her character Izzie ended up. (In an inpatient mental health facility, maybe? Girl went crazy.) "I just want to know what happened to her and where she went and what she's doing now," Heigl says. "My idea is that she actually like figures it out, and finds some success and does really well in a different hospital." Heigl left Grey's in 2010 after months of complaining (and shortly after adopting her daughter), creating one of those amazing off-screen stories that just wouldn't die — not unlike Heigl's character Izzie, who stoically battled a brain tumor and survived. Anyway, even Heigl admits that returning to the show is a long shot: "Being a showrunner and being a writer of a TV series like that is so complicated that, I mean, she's got how many characters are there now? There's a lot, and so she's balancing about 40 different storylines, so I don't know if it fits in to their sort of vision for this season or next or however many seasons it goes." But Heigl's ready when you are, Shonda Rhimes.