The Killing Won't Solve Rosie Larsen Murder Anytime Soon
You'll have to wait even longer than you thought.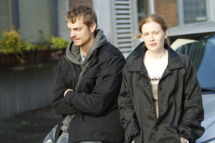 AMC attempted to shield showrunner Veena Sud from press scrutiny this month by canceling the TCA panel for her show, The Killing, but the controversy continues over Sud's decision to wrap up season one without solving its central murder of Rosie Larsen. "Our intent was not to mislead or betray," Sud insists in the current issue of Written By. "We talked about it. How could you not?" Still, don't expect to get closure on the issue anytime soon: AMC once claimed that the Larsen murder will be wrapped up early in the next season at the same time as a new case is introduced, but the Written By article distinctly refutes that, claiming, "For the record, who killed Rosie Larsen will not be revealed until the end of season two." Gotta keep the red herring industry in business, after all!