Let's Discuss the Cover of Vanity Fair's Hollywood Issue
Is it, y'know, racist?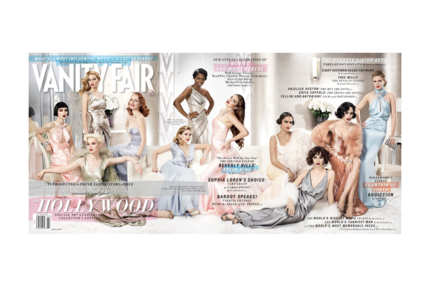 Vanity Fair has released the pullout cover of the magazine's annual Hollywood issue, and as always, there is a lot to talk about. First of all, we'll give you an identification key, because some of these ladies don't quite look like themselves: From left to right, we've got Theda Bara Rooney Mara, a seated Annie Lennox Mia Wasikowska, a standing Jennifer Lawrence, Jessica Chastain, Elizabeth Olsen being sucked into the couch by invisible couch monsters, Pariah's Adepero Oduye, Shailene Woodley, Paula Patton, Felicity Jones, Elizabeth Taylor Lily Collins, and Brit Marling. As is the annual tradition with these things, the cover has touched off a discussion about whether Vanity Fair is racist for its habitual practice of restricting actresses of color to the second and third foldout panels. Indeed, it kind of seems like Zoe Saldana — who was on the second panel in 2008 and has toplined two blockbuster franchises since — has earned first-panel privileges by now, no? (Sorry, Mia Wasikowska: We love ya, but we'd bump ya.) Or is Vanity Fair simply reflecting a Young Hollywood reality?