Lindsay Lohan May Play Elizabeth Taylor on Lifetime
One step forward, one step back.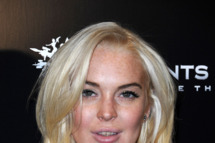 Lindsay Lohan, noted Marilyn Monroe impersonator, may channel her chameleonism in the form of recently deceased Liz Taylor. The upcoming Lifetime movie Elizabeth & Richard: A Love Story is eyeing Lohan, Deadline reports. There's a noteworthy level of similarity there, as Slate noted in 2010: "Both had domineering stage mothers, little semblance of a real childhood, fame from a young age, substance abuse issues, public emotional outpourings, and copious amounts of tabloid drama." Doing a made-for-TV movie seems a suspect way to mount a comeback, but when it's Lohan, it's not the worst idea to take what you can get.