Louis C.K. Thinks FX Likes Him Too Much
Never underestimate the magic of comedians trash-talking themselves.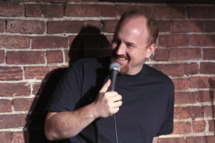 The now-legendary "Louis C.K. Deal" — in which the comedian scored complete creative control over his FX show Louie and enough money to pull it off — is something C.K. himself actually finds crazy, even after two successful seasons. According to EW, C.K. riffed on Sunday: "I don't know why they gave me this much freedom. If I was running FX, I would have never given me what they've given me. It was irresponsible." We hate to say it, Louis, but you're wrong. But you're wrong because you're great.