Mindy Kaling's NBC Project Is Headed to Fox
Will Zooey soon be hanging out with her?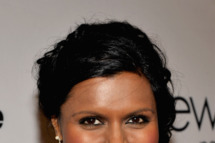 This is why actress/blogger/best-selling author Mindy Kaling is not getting her own Office spinoff: Vulture hears Fox is just about ready to order a pilot for a half-hour comedy written by and starring Kaling as an OB/GYN. The project was originally developed at NBC via Kaling's overall deal with Universal Television, the Peacock's studio arm. But NBC network brass decided to pass on the concept, putting the show on the open market. Fox, which has had success this season with the female-focused New Girl, pounced on the chance to develop the show. Universal will still produce. Zooey and Mindy, hanging together on Tuesday nights? To quote the poets Ingram and McDonald: "Ya mo be there." Update: A few more details. Universal TV tells us the project is about a "young Bridget Jones type doctor trying to navigate both her personal and professional lives." Howard Klein, a producer on The Office, will work with Kaling as an exec producer on the Fox pilot. It's also worth noting this is the second Universal TV project this development season to be sold to a network not named NBC. The studio just set up a Louis C.K./Spike Feresten–penned half-hour at CBS.