A Nick Offerman–Penned Parks and Rec Episode Is Coming Your Way
More tiny hats, please.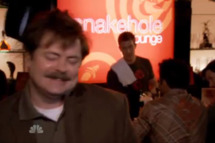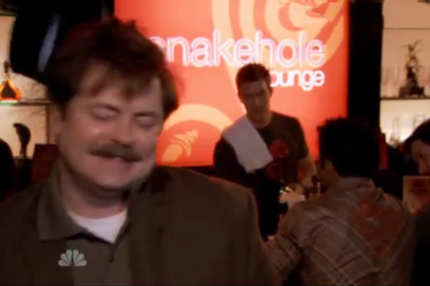 The real-life counterpart to Ron Swanson knows his way around a woodshop and can speak knowledgeably about cats, but it turns out he can also write a comedy script. Offerman tells Alan Sepinwall that Mike Schur asked him to write an episode this season (it'll be number eighteen, for your calendars), and that he "burst into explosive tears," then graciously agreed. His writerly qualifications? "I wrote papers in high school." Anything else? "I have added a lot of dialogue to the show. And my emails retain a certain notoriety for having a certain turn of phrase." Offerman also notes that it was his idea to wear Aubrey Plaza's tiny hat for the infamous Snake Juice episode, so God willing, his writing debut will look like this.