Rob McElhenney Has a New Comedy Coming to Fox
It's called <em>Living Loaded</em>, which makes sense.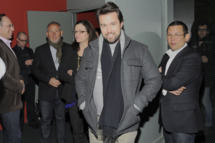 It's Always Sunny in Philadelphia creator and star Rob McElhenney just got a single-camera comedy pilot greenlit over at Fox. It's called Living Loaded and — surprise! — will be boozy. More specifically, it's about "a loose partying blogger forced to change his career plans when he becomes a radio host," according to Deadline. With at least two more seasons of Always Sunny on the way, we're guessing McElhenney won't be onscreen for this one. But we can hope for a sloshed cameo, yeah?