Sarah Jessica Parker to Play Gloria Steinem
She's filling in for Demi Moore in <em>Lovelace</em>.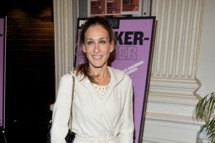 The star-studded biopic Lovelace lost one of its big-name cameos this week when Demi Moore pulled out to attend to her own health, but the producers have quickly lined up a replacement. Now, Sarah Jessica Parker will play feminist icon Gloria Steinem in the film, which stars Amanda Seyfried as Deep Throat actress Linda Lovelace, but also features Peter Sarsgaard, Sharon Stone, Chris Noth, Chloe Sevigny, Bobby Cannavale, Adam Brody, James Franco, Wes Bentley, and Juno Temple. It's like New Year's Eve and Valentine's Day, but for porn!