Glee To Do Saturday Night Fever Episode
Ryan Murphy hopes John Travolta will guest star.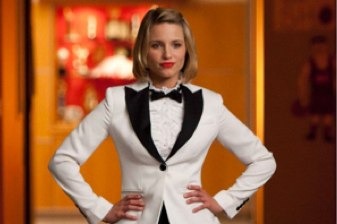 Last year, Glee devoted a whole episode to Fleetwood Mac's classic album Rumours, and for this season, the show has found another 1977 LP to pay tribute to. Ryan Murphy tells TV Guide that he's teamed up with Barry Gibb to craft an April episode of Glee that's dedicated to the Bee Gees soundtrack for Saturday Night Fever, which (like fellow 40 million seller Rumours) is one of the biggest albums of all time. Murphy even teased a potential Saturday Night Fever cameo, telling the magazine, "[John] Travolta and Cory Monteith became close friends at a party when Cory told him he'd seen Broken Arrow 20 times ... So maybe we'll have them dance in a Finn dream sequence." They are definitely of equal dancing ability! Go for it.