Seth Rogen to Direct the Jay and Seth vs. the Apocalypse Movie
Slumbie at James Franco's house!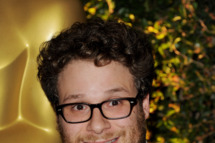 A full-length version of Seth Rogen and Evan Goldberg's YouTube short has been in the works for almost three years now, but The Apocalypse, as it is now titled, has finally found funding. Sony is in negotiations to finance and distribute the movie, which will begin filming this spring; Rogen is onboard to star and direct. Also attached: Jay Baruchel, James Franco, Jonah Hill, and Craig Robinson, or as they are more popularly known, the Stoner Dream Team. Even better, the premise has been changed so that everyone is trapped in Franco's apartment for the Apocalypse. Slumbie at James Franco's house! See you there.