The Crow Remake Is Back on Track With a Writer and Director
Bradley Cooper-less now, but maybe that's okay.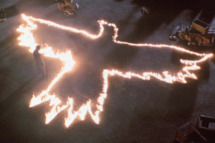 The Crow, having flown through much turbulence, has landed Spanish director F. Javier Guitérrez and uncredited Eragon and 8 Mile rewriter Jesse Wigutow to handle the screenplay. The remake of the 1994 film lost Bradley Cooper during Relativity Media's prolonged rights battle with Harvey and Bob Weinstein, but Channing Tatum and Mark Wahlberg were reportedly interested at the time. Maybe this is Marky Mark's perfect post-9/11-comment fiasco move: He could do a tremendous job, please superfans of deceased original Crow star and cult hero Brandon Lee, successfully reassemble his reputation, and then say another crazy thing?