They're Remaking Death Wish
Joe Carnahan will write and direct.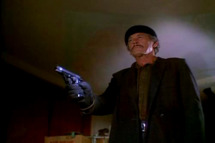 Fresh off the No. 1 success of The Grey, director Joe Carnahan has lined up a new project that's actually not so new. The L.A. Times reports that Carnahan has signed on to write and direct a remake of Death Wish, the 1974 vigilante thriller starring Charles Bronson as a mild-mannered man who morphs into a killing machine after thugs rape his daughter and murder his wife (and there were four additional sequels, each giving Bronson even more rapes, murders, and beatings to avenge). Frequent Carnahan muse Liam Neeson would be just a little too on the nose for this one, right?