Tracy Morgan Hospitalized at Sundance [Updated]
He passed out shortly after giving a speech.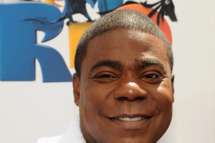 Tracy Morgan was rushed to the hospital Sunday night at Sundance. TMZ reports that Morgan was honored at the Creative Coalition Spotlight Awards and "appeared extremely intoxicated during his award acceptance speech." He fell unconscious shortly after the speech and was taken to the hospital by ambulance. Morgan, 43, is diabetic and had a kidney transplant in late 2010. UPDATE: A spokeswoman at the hospital told TMZ that no drugs or alcohol were found in Morgan's system, and his representative said "Any reports of Tracy consuming alcohol are 100% false." Morgan himself tweeted "Superman ran into a little kryptonite. The high altitude in Utah shook up this kid from Brooklyn." Hope he's feeling better.