Treme Won't Be Back Until the Fall
Patience is a virtue.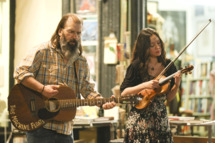 Treme's third (and possibly penultimate) season won't premiere until the fall, the Times-Picayune reports, unlike the first two seasons, which both started in April. There's no specific date set yet, but the show's production schedule suggests a premiere sometime in November — not that David Simon cares about the particulars one way or the other. "It just doesn't matter," he told the paper. "I just want to have it be there for re-watch, for download and for DVDs," he said, and that his only concern is that HBO let him finish the four seasons he wants to do. "I don't pull an audience no matter when they put me on." Aw, cheer up, David Simon.