Van Halen Just Rocked for 250 People in Greenwich Village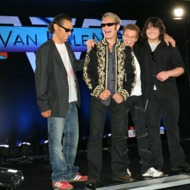 The officially reunited, done-hating-each-other Van Halen chose Greenwich Village's Cafe Wha? as their cobweb-removal HQ on Wednesday night, jamming an hour-and-change set list for industry types and John McEnroe. From the various media reports rolling in, it sounds like the ordinarily arena-rocking rockers were slick in the intimate environment, honoring the classics and giving one glimpse from upcoming album A Different Kind of Truth, the group's first LP together with original front man David Lee Roth in 28 years, dropping February 7. Here, a sampler of what it was like to see Van Halen (pictured here before their abbreviated 2007 go-round) at a tiny Village club, warming up for a massive reunion tour. (Dare we say they've joined the pantheon of Awesome Ways to Announce a Musical Comeback for a second time?)
The vibe:
• "from the moment they took the stage, they appeared to be having the time of their lives." [VH1/former Vulturite Mark Graham]
• "Alex Van Halen played the opening percussion riff to 'Dance the Night Away' on an overhead water pipe." [WSJ]
• "The band in good spirits, and the players in bracing synch ... Hopefully [Eddie Van Halen and David Lee Roth's] boyish rapport can keep things light enough to allow the band to actually get through the coming tour without killing each other." [NYDN]
• "it was one for the books — an epic rock show for old people, by old people." [Fast Company Co.Create]
• Roth wore tan overalls and a train conductor's cap and played a bit of acoustic guitar.
The sound:
• "[Eddie Van Halen] was at his dazzling best, blending flawless technique, off-the-moment invention and exploitation of raw volume." [WSJ]
• "Though his mic was weak, Roth's voice wasn't, as his signature screech was in top form, as was Eddie Van Halen's scorching guitar play." [AP]
• "Eddie's frenzied fretwork remains a thing to behold; the way he's able to coax sonic textures from his single electric guitar puts most normal bands with their rhythm and lead guitars to shame. And while there's no use pretending that David Lee Roth can hit the upper registers like he could thirtysome years ago, he innately understands his vocal range; all of his vocals tonight sounded rich, full and passionate in a way that bodes very well for the band's impending world tour." [VH1]
Things David Lee Roth said:
• "Welcome to Occupy Van Halen, ladies and gentlemen." [USAT]
• "The last time I stood on a stage this low, I had to get the car home by midnight." [AP]
• "This is a temple...I'm more nervous about this gig than I've been at [Madison Square Garden]." [USAT]
• "Frontman Roth spent no small portion of his many, many monologues in the 75-minute set emphasizing his connection to the city, as if to temper the band's essential California character." [NYDN]
• "[this is] unarguably one of the best gigs of the career." [Billboard]
About that new song:
• "The rave-up 'She's the Woman' featured knotty unison playing by Eddie Van Halen and his son." [WSJ]
• "a chugging guitar line and a Red Hot Chili Peppers-ish bass" [Newsday]
• "a chugging, unabashedly carnal rocker with a classically wailing guitar solo" [USAT]
About that bass player, who is not original bassist Michael Anthony but Eddie Van Halen's 20-year-old son, Wolfgang:
• "The youngest Van Halen proved a deft, muscular player, helping his Uncle Alex sustain a robust foundation for dad Eddie's fluid, frantic virtuosity." [USAT]
Photo: Michael Buckner/2007 Getty Images