Vulture Maps the Geographical Settings of All Past and Present Best Picture Nominees
Where should you set your movie if you want to increase your odds of a nomination?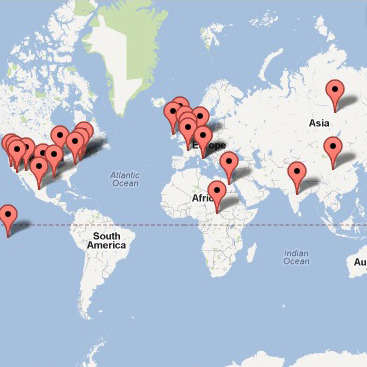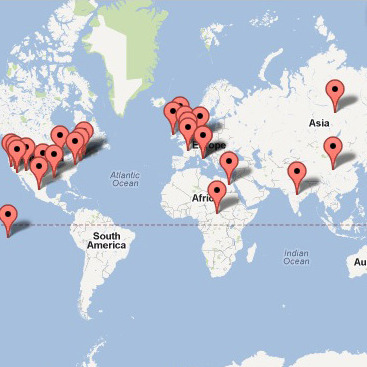 As we have learned over the years, the Oscars love a good costume drama, or a biopic, or a performance in which an astonishingly attractive actress goes very, very ugly. Fold one of these elements into your movie, and your chances at a Best Picture nomination increase substantially. But what about the movie's setting, Vulture wondered — does a movie that takes place in Paris stand a better chance at a Best Picture nod than one set in, say, South Dakota? This year's nominations, which include two movies set in Paris (Midnight in Paris, Hugo) and zero set in South Dakota, would suggest that the Academy does prefer certain, more glamorous destinations. But to find out for sure, Vulture went back through all 495 Best Picture nominees to provide a breakdown of the best settings a Best Picture hopeful. Turns out Paris is good, but New York is way better. And New England: surprisingly popular! Here's the full map (click on each pin to read the movies set in that region), with the breakdown by city below:
And here are the city totals in list form; the movies for New York City and England (not London) are included below, because there were too many to fit on the map itself.

New York City: 72
Awakenings; Dog Day Afternoon; GoodFellas; Moonstruck; Prizzi's Honor; Good Night, and Good Luck; Precious; Terms of Endearment; The Snake Pit; Auntie Mame; Arrowsmith; Dark Victory; She Done Him Wrong; Lady For A Day; 42nd Street; Five Star Final; Bad Girl; The Divorcee; The Broadway Melody; Extremely Loud and Incredibly Close; Black Swan; Michael Clayton; Gangs of New York; As Good As It Gets; Quiz Show; Scent of a Woman; The Prince of Tides; The Godfather Part III; Ghost; Working Girl; Fatal Attraction; Hannah and Her Sisters; Tootsie; All That Jazz; Kramer vs. Kramer; An Unmarried Woman; The Goodbye Girl; Annie Hall; Taxi Driver; Network; The French Connection; Hello, Dolly!; Midnight Cowboy; Funny Girl; A Thousand Clowns; West Side Story; The Apartment; The Country Girl; All About Eve; The Heiress; Miracle on 34th Street; Gentleman's Agreement; The Bells of St. Mary's; The Lost Weekend; Going My Way; The Talk of the Town; The Pride of the Yankees; Kitty Foyle; Stage Door; Dead End; Three Smart Girls; Mr. Deeds Goes To Town; Libeled Lady; The Great Ziegfeld; The Broadway Melody of 1936; The Thin Man; It Happened One Night; Raging Bull; The Godfather; The Godfather, Part II; Marty; Heaven Can Wait; The Hours
United Kingdom (excluding London): 40
Separate Tables; A Clockwork Orange; Room at the Top; Barry Lyndon; Witness for the Prosecution; Ivanhoe; Goodbye, Mr. Chips; Rebecca; War Horse; Tess; Smilin' Through; Howards End; Gosford Park; Finding Neverland; Doctor Doolittle; How Green Was My Valley; Braveheart; The Full Monty; The Adventures of Robin Hood; Disraeli; Atonement; Secrets and Lies; Four Weddings and a Funeral; The Remains of the Day; Anne of the Thousand Days; A Man for All Seasons; Becket; Tom Jones; Sons and Lovers; Great Expectations; Random Harvest; Mrs. Miniver; Wuthering Heights; Pygmalion; The Gay Divorcee; The Barretts of Wimpole Street; Julia; Chariots of Fire; Mutiny on the Bounty; Sense and Sensibility
London: 25
New England: 20
France (excluding Paris): 17
Los Angeles/Hollywood: 15
Paris: 14
California (excluding Los Angeles and San Francisco): 13
Middle of the Ocean (including remote islands): 13
Italy (excluding Rome): 10
Washington, D.C.: 10
Chicago: 9
American West: 7
Germany: 7
San Francisco: 7
Texas: 7
Africa (excluding Egypt): 6
Louisiana: 6
Rome: 6
Russia/USSR: 5
China: 5
Egypt: 5
India: 5
Ireland: 5
Mexico: 5