Vulture's Got Your Golden Globes Coverage Right Here
Sunday night: Fug Girls! Live-blogging! Tweeting! Video! More, more, more!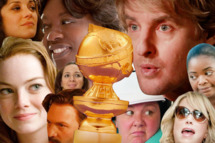 The Golden Globes, hosted by the hilarious (and, fingers crossed, not insufferable) Ricky Gervais, are happening on Sunday night. And boy oh boy will Vulture be there! Starting at 6 p.m., the Fug Girls will be live-blogging the red carpet. Come showtime, we'll be live-blogging the spectacular as well as live-tweeting it. (You can follow us here, @vulture.) Stick around afterwards for a postshow analysis, as well as a slideshow of all the red-carpet looks, video of Mr. Gervais's most glorious insults, and more. We'll see you here!