Big Bang Theory Beat American Idol Last Night
<em>Idol</em> fell to its worst ratings since the show's first season.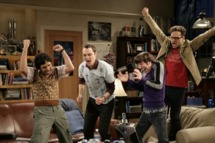 The Big Bang Theory officially beat American Idol last night, and not just in the demo, but in overall viewers, too. BBT pulled in 16.1 million viewers overall (based on fast national ratings), with a 5.2 in the 18-49 demo; Idol slipped to 15.4 million viewers, with 4.4 in 18-49. That's Idol's worst showing among adults since the show's first season — and it's a 30 percent drop from last year's top-24 episode, and 14 percent drop from last week's Thursday episode. The times they are a-changing, how the mighty have fallen, nothing is forever, etc!