Bill Murray Won't Do Ghostbusters 3
Bustin' does not make him feel good.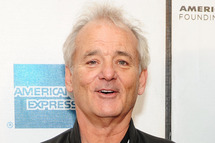 What's Bill Murray afraid of? Ghosts, apparently: Though long courted for a role in Ghostbusters 3, Murray has flat out refused to sign on, says Dan Aykroyd. "At this point [the movie is] in suspended animation," Aykroyd tells the Telegraph. "The studio, the director Ivan Reitman and Harold Ramis feel there must be a way to do it, but Bill Murray will not do the movie. He doesn't want to be involved. He's got six kids, houses all over America. He golfs in these tournaments where they pay him to turn up and have a laugh. He's into this life and living it. I know we'd have a lot of fun [but] I can't be mad at him." Though Aykroyd insists that he's "not going to do a movie that exploits the franchise," he admits that he may recast Murray's role (ugh, what, no) if that's what it takes. Not making the movie also seems like a valid option! Explore that!