Bill Pullman to Play Our President Again, Thank God
In Josh Gad's <em>16oo Penn</em>.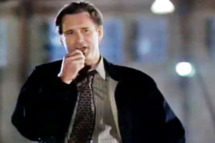 In these uncertain times, as Republican nominees misquote Seinfeld and President Obama performs mediocre (sorry!) karaoke at every public event, it is hard, as a nation, to know who to trust. But rest easy, America, for our long pop-culture-related presidential nightmare is over. Bill Pullman, the greatest fictional commander in chief to ever grace the screen, has been cast as the President Dale Gilchrist in Chief in Josh Gad's 1600 Penn pilot. Brittany Snow, of American Dreams, has signed up to play the First Daughter. Anyway, if you were looking for an excuse to stand on your desk and scream the Independence Day speech at the top of your lungs, now's your chance. Enjoy.