Bonnaroo 2012: Radiohead, Bon Iver, Beach Boys, Skrillex …
The Shins! Das Racist! EMA! So many more.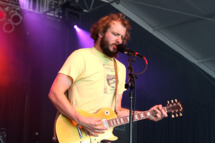 The lineup for the eleventh Bonnaroo Arts & Music Festival — going down in Manchester, Tennessee, June 7 to 10 — has been announced! And if you are determined to see Thom Yorke play in a field this year but did not manage to score tickets to Coachella, then you are in luck: Radiohead is headlining this festival as well. Also on the bill: the reunited Beach Boys, Red Hot Chili Peppers, Bon Iver, Skrillex, the Shins, Foster the People, Feist, tUnE-YarDs, St. Vincent, Major Lazer, Childish Gambino, the Black Lips, Kendrick Lamar, Das Racist, Battles, Yelawolf, Danny Brown, the War on Drugs, EMA, and many more. Summer! We can almost remember what that feels like now.