Bridget Jones's Baby May Be in Trouble
Script issues could shut it down.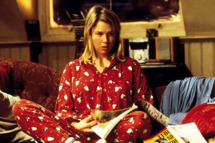 The third Bridget Jones film may never happen, at this rate. After Paul Feig bailing and Full Monty director Peter Cattaneo stepping in late last year, the film's reportedly having screenplay trouble. "Script issues have caused the creative team — especially [Hugh] Grant — to ask that the movie be delayed," sources tell the Hollywood Reporter. "Any stoppage, however, could lead an indefinite, if not permanent, shutdown." Deadline isn't convinced things are so dire, though: "Sources close to the production are adamant they will make this movie this year. Yes, they are still tweaking the script. But Grant, Colin Firth and especially Renee Zellweger are determined to make it." Listen, if die-hard Bridget Jones fan Mindy Kaling just fires up a Twitter campaign to save this thing, everything should be fine. UPDATE: From Grant's publicist: "Hugh is keen that Bridget Jones 3 happens, but Renee, Colin and he all have some issue with the present script. They are hoping to help work them out. "