Selma Blair Cast in Charlie Sheen's Anger Management Sitcom
She'll play his therapist and love interest.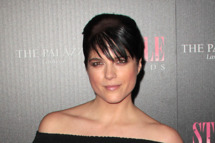 Selma Blair will star opposite Charlie Sheen in his upcoming FX sitcom Anger Management, Deadline reports. Sheen plays a baseball player turned therapist, and Blair will play Sheen's own therapist and love interest, while Shawnee Smith (Becker, The Stand) will play his ex-wife. Perhaps they were enticed by Sheen's promise that there will be "no fart jokes, and dick jokes, and poo-poo jokes, and jack-off jokes"? Or maybe it was the promise that if the first ten episodes hit a certain ratings threshold, FX will immediately order another 90 episodes. Either way.