Chuck's Zachary Levi Lands Fox Comedy
A brief unemployment stint indeed.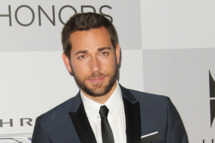 Less than a month after NBC's Chuck ended its five-season run, star Zachary Levi has signed onto Fox's Let It Go. The show, a half-hour single-camera comedy, will come from Rescue Me co-creator Peter Tolan and revolve around a married couple, "the husband (Levi), his best friend and her sister as they try to navigate, negotiate and sometimes manipulate society's unspoken rules." Just to be crystal clear, he's not a goofy secret agent in this one.