Ethan Peck to Star Opposite Aimee Teegarden in CW's Hunger Games–ish Pilot
And yes, he's Gregory Peck's grandson.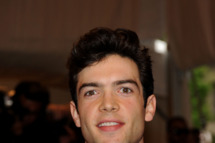 And yes, Ethan Peck is the grandson of Atticus Finch, or more accurate, Academy Award–winning actor Gregory Peck. He's set to play the dashing Prince Maxon in the new CW series The Selection, where several girls, including Teegarden, are selected by lottery to competitively woo him. Let the games, or rather the courting, begin!