George Lucas Now Actively Trolling Fanboys With All His Might
"It's not a religious event. It's a movie, just a movie."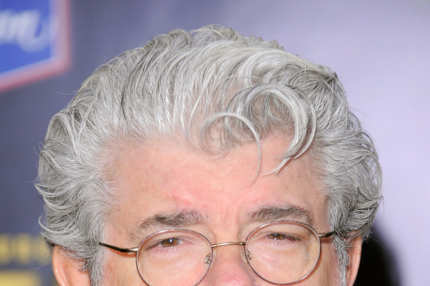 George Lucas recently announced his departure from the realm of blockbusters with heavy-hearted lines like, "Why would I make any more when everybody yells at you all the time and says what a terrible person you are?" Now the Star Wars creator has taken to actively pursuing the ire of his series' zealous fandom. "Well, it's not a religious event. I hate to tell people that. It's a movie, just a movie," says Lucas, who clearly missed the CNN report on 15,000 Czech citizens who put down "Knights of the Jedi" as their freaking religion. But he's far from done: "The controversy over who shot first, Greedo or Han Solo, in Episode IV, what I did was try to clean up the confusion, but obviously it upset people because they wanted Solo to be a cold-blooded killer, but he actually isn't. ... Greedo is the one who shot first." These divisive new assertions will, of course, drum up publicity for The Phantom Menace's 3-D return to theaters. Publicity like SlashFilm's glowing sum-up: "It's what's generally considered one of the worst of the bunch, converted into an experience many people hate."