Gloria Steinem 'Grateful' to Be Played by Sarah Jessica Parker
She also loves <em>Sex and the City</em>.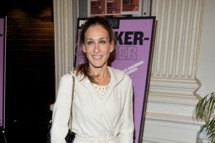 Some of you carped when it was announced that Sarah Jessica Parker would portray Gloria Steinem in the film Lovelace, but the real-life feminist icon is thrilled by it. "I'm grateful that she wants to do it so much, because of the subject matter — because she understands how important sex trafficking and forced prostitution is," said Steinem of Parker, who replaced Demi Moore for a cameo role in the movie about the turbulent life of Deep Throat actress Linda Lovelace (played by Amanda Seyfried). In fact, Steinem has more of an affinity for Parker than you might have thought, adding, "I think that Sex and the City was one of the few pop cultural admissions that friendship among women is crucial and that has really continuing appeal." Okay, but Big or Aidan?