Harrison Ford May Join New Blade Runner Film [Update]
He's rumored to have "entered into early talks," at least.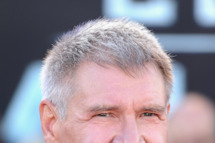 Here's a clue that Ridley Scott's new Blade Runner film looks like a sequel rather than a remake of the 1982 original: Harrison Ford may be coming aboard. TwitchFilm got a scoop over the weekend that Ford "has entered into early talks" to potentially resurrect Rick Deckard. Producer Andrew Kosove told the L.A. Times last August, "this is a total reinvention, and in my mind that means doing everything fresh, including casting," but perhaps things have changed and Ford has taken a shine to the idea of kicking off his seventies (projected premiere: July 13, 2012) with another Blade Runner jaunt (projected release: sometime in 2014). UPDATE: "Absolutely patently false," Kosove tells Deadline.