How Does Harvey Weinstein Deal With Madonna, Meryl, and Michelle?
"You learn after a while, it's like doctors and patients."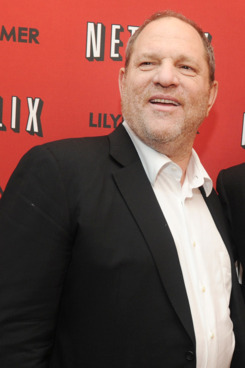 We found out recently that Madonna cut her own daughter from W.E., but what additional cuts did Harvey Weinstein make when he acquired the film after Cannes? When we caught up with Weinstein last night at the Crosby Hotel's party for Lilyhammer, we asked him exactly that. "Can I say something about working with Madonna?" he laughed. "Normally you could ask me that question [about cutting scenes], but when you work with Madonna, she does those things." In fact, Weinstein says he insisted that Madonna put more footage in to clarify the movie's controversial romance between King Edward and Wallis Simpson, especially once he heard that Winston Churchill initially backed Edward and was censured by Parliament for doing so. "Madonna told me this story! I go, 'How do you know this and not put it in the movie?' So she put it in the movie. There's other stuff, but that's the major change, because in The King's Speech, you think Churchill's against Wallis Simpson right away. Not true. He was forced to be against Wallis Simpson." Though W.E. is Weinstein's big release this week, he's also supporting his Oscar contenders Meryl Streep and Michelle Williams, who are pitted against each other in Best Actress. Does that complicate things for him? "You learn after a while, it's like doctors and patients," he said. "You love them both, how can you not? We light incense for both of them."