Inspector Spacetime Webisodes Coming Soon
But not from <em>Community</em> itself.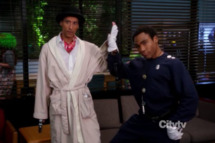 There's an Inspector Spacetime web series in the works, though sadly not from the Community writers who created the Doctor Who spoof/homage but instead from the guy who plays Inspector Spacetime in the tiny snippets on the show. Actor and vlogger Travis Richey announced at a Doctor Who convention this weekend that he's attempting to launch a six-episode fan-funded web series all about the Inspector's space adventures battling the Blogons alongside the Constable. Remember, it's not how much funding you can raise with a Kickstarter, it's when much funding you can raise ...